Below, please find the studio supply list. This gear is available online at your favorite supplier in the USA. Estimated 2022 online retail prices (pre-tax, rounded to the nearest dollar) are listed per item. You may already possess some of these materials in your home; be sure to check around the house before purchasing. But please use only quality gear. Just as one cannot learn to play music on a junk piano, lower-quality art materials will not allow your youngster to uncover the mechanical and perceptual possibilities of graphic/painterly media and materials. True art materials are truly fine things built at a premium, sold at a premium, and bought at a premium.
Materials List
(estimated total: $90.00)
small set of graphite drawing pencils for artists, any brand. Please include at least one of each of the following: HB, 2B, 5B and 8B. Kindly avoid cheap junk. Also avoid Staedtler Lumograph pencils. Quality brands include Faber-Castell, Derwent, Kimberly, Tombow, Schwan…  Approx. $12

small set of 12-count color pencils. Please avoid cheap or brandless color pencils. Prismacolor brand highly suggested.

Approx. $13.00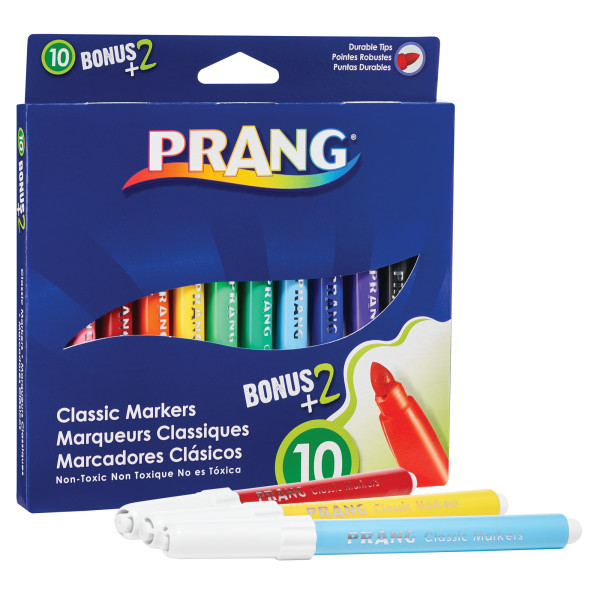 Small set of markers. E.g. Prang Classic Art Markers. 

Approx. $5.59
 one white eraser (please avoid pink, blue, other colors).  Approx. $2.00
 one drafting brush or clean, unused feather duster. Approx. $10.00
one Tuff Stuff eraser stick, now also known as the Factis BM2 Eraser .  Approx. $5.00.  
one gray kneaded eraser. Approx. $2.00
drawing paper pad, 80 lb. (120 g/m

2

) weight, 9" x 12"/22.86 cm x 30.48 cm/A4

(European Standard) or closest size.  Approx. $6.00
 one tracing paper pad, 18" x 12"/45.72 cm x 30.48 cm/A2 (European Standard) or
closest size. Approx. $8.00
stack of printer paper as scrap. Approx. $4.00 (from your home office supply)
one or two non-oily rags. Approx. $5.00 (free if you cut-up old t-shirts!)
small set of small-to-medium sized blending stumps, all under 1 cm diameter. Approx. $3.00
one sheet of fine or very fine sandpaper ( more or less 200 to 400 grit). Approx. $3.00
Xacto Knife No.1 with #11 blade or similar by Alvin, etc. Approx. $10.99.



one ruler (wood or plastic, please avoid metal, as these can stain papers), 12 to 18 in/30 cm to 45.72 cm. See-through ones, made of acrylic plastic, with raised grip, are best, but any good metered edge will do. See C-Thru brand example shown here. Approx. $2.00
one roll of easy-off masking tape (not fancy; nothing with too tough a grip. Traditional Scotch brand for household use is perfect. )  Approx. $2.00
one roll of Scotch brand removable tape (always in sky-blue packaging). Approx. $3.00
two clean and smooth (non-corrugated) cardboards of thicker ply; make one of these be a medium size (approx. 12" x 16"/30 cm x 40 cm), and the other a smaller one (approx. 8" x 10"/ 20 cm x 25 cm). Approx. $2.00